Black Management Association
We are a community for Black students, alumni, faculty and staff at the UCI Paul Merage School of Business.
---
The Black Management Association (BMA) at the Merage School supports Black students and alumni in their professional goals through events, professional development, networking, leadership and service opportunities. We seek to amplify Black voices in business while building a community of inclusivity.
Events
KIA Pitch Competition | May 5, 2023 | 3:30 - 6:00 pm
Black Innovation Summit | May 6, 2023 | 8:00 am - 1:30 pm
Join us as The Black Management Association's third annual conference once again brings together the business community with BMA alumni and students in a dynamic forum focused on business impact through continual innovation. No matter where you are in your career, this event provides tremendous opportunities for you to enhance your network and your toolkits! The Black Management Association strives to serve as a hub to inspire innovation, build impactful networks, and strengthen the business community in Orange County.
"

During my time at the Merage School, I have developed many great relationships that have significantly helped me to grow personally and career-wise. I look forward to working with the BMA to ensure that future students feel supported by a community at UCI.

"

- Alaina McClue, MIE '20 
Officers
Ryan McNichols
FEMBA '23
President
Connect with Ryan
Ryan, a Los Angeles native, enjoys mentoring youth, sports, and the arts. He joins the Paul Merage School with an extensive background in the entertainment and sports, automotive, and aerospace industries. As part of the inaugural BMA leadership team, he says "I'm excited about what we can and will accomplish within BMA. The opportunity to start and sustain an organization to open a network of opportunities for current and future students is truly fulfilling."
María Teresa Carmier
MIE '22
Vice President, Marketing
Connect with María
María Teresa is an Afro-Indigenous artist, educator and researcher. She co-founded a pop-up art school serving inner-city youth that centers foundational art skills, culture and community. María Teresa joins the MIE program to develop art and education technology for the digital age. Maria Teresa says of BMA, "I feel that community is vital to an individual's success, and I am excited to serve and support sustaining our BMA community."
Chelsea Gray
MPAc '22
Vice President, Treasury
Connect with Chelsea
Chelsea Gray was born and raised in Southern California. She attended UC Irvine for her Undergraduate degree in Business Administration and is currently working on her Master's in Professional Accountancy. She is currently an intern at CliftonLarsonAllen in the Irvine office.
James Lott
FEMBA '23
Vice President, Alumni Relations
Connect with James
James Lott joined BMA as a FEMBA student in 2021. As a real estate professional and entrepreneur, he is passionate about financial literacy and helping families accumulate generational wealth. He is involved in his local community by advocating for affordable housing in Southern California and mentoring. In his spare time, James enjoys playing all types of sports (mainly basketball and golf) and spending time with his loved ones.
Christina Hearn Furze
EMBA '23
Vice President, Admissions
Connect with Christina
Christina Hearn Furze is an Orange County resident currently in the EMBA program. She considers herself a global citizen with a worldly view having grown up in and traveled to many countries. She has spent the last 15 years working in business management, development and consulting within the medical field and chose UCI's EMBA program because of its digital technology focus with a healthcare specialization track.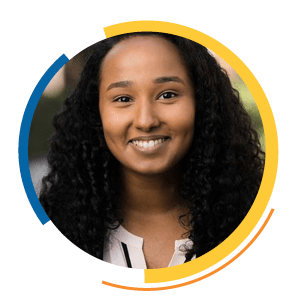 Sahra Adan
MPAc '23
Vice President, Administration
Connect with Sahra
Originally from Atlanta, Georgia, Sahra Adan is a student in the MPAc program and a tech enthusiast. Before joining the Paul Merage School, she worked at EY as a consultant and worked on Risk Compliance, Finance Transformation, & SAP Implementation engagements. In her role in BMA, Sahra is responsible for overseeing the administrative work and documenting outcomes associated with the organization. Sahra is excited to join BMA as she believes it will help students achieve new levels of success.
"

As a member of the BMA, I will look forward to helping the Merage School make all programs that are directed at its current students and alumni are restructured to attract current Black students and Black alumni to respective programs.

"

- Vernon Crawford, EMBA '15 
Featured Stories
Bradford Fellows Fund Announced at Inaugural Black Management Association Conference
The Bradford Fellows Scholarship was endowed by Professor Tonya Williams Bradford and Professor Kevin Bradford.
Living up to His Name: Justice Turner, J.D., MBA, '20
Justice Turner, J.D/MBA '20 is an attorney at Geragos & Geragos and addresses social justice issues in his video series "Is that Justice?" produced with MeidasTouch.
The Black Management Association BMA for Students and Alumni Launches at Merage-School
BMA is the newest campus organization at the Merage School and aims to bring students, faculty and alumni together to promote a culture of inclusion.
"T

hrough the Black Management Association I hope that I can share my experiences as well as expand my own group of trusted peers and make their time at UCI the most enjoyable experience possible.

"

- Will James, FEMBA '18