Jane Buchan
PhD, CAIA, Chief Executive Officer, Co-Founder PAAMCO

Jane Buchan, PhD, CAIA is a Co-Founder of PAAMCO. As of August 1, 2018 she retired as Chief Executive Officer of PAAMCO and Co-CEO of the holding company, PAAMCO Prisma Holdings, LLC. in order to fulfill her dream of passing the torch to the next generation of PAAMCO leadership and creating a multi-generation asset management firm. Jane began her career at J.P. Morgan Investment Management in the Capital Markets Group and has been an Assistant Professor of Finance at the Amos Tuck School of Business at Dartmouth. She recently served as chairwoman of the board for the Chartered Alternative Investment Analyst Association (CAIA) and is a member of the Advisory Board for the Master of Financial Engineering Program at UCLA Anderson School of Management. Jane holds both a PhD and an MA in Business Economics (Finance) from Harvard University. She earned a BA in Economics from Yale University. Jane has thirty-three years of experience in investment management and portfolio construction with institutional investors.
Sarah H. Ketterer
Chief Executive Officer, Portfolio Manager, Causeway Capital

Ms. Ketterer is the Chief Executive Officer at Causeway, Portfolio Manager for the firm's Fundamental and Absolute Returns strategies, and is responsible for investment research across all sectors. Ms. Ketterer is a member of the Operating and Strategic Planning Committees. She co-founded the firm in June 2001. From 1996 to 2001, Ms. Ketterer worked for the Hotchkis and Wiley division of Merrill Lynch Investment Managers (HW-MLIM). At HW-MLIM, she was a Managing Director and Co-head of the firm's HW-MLIM International and Global Value team. From 1990 to 1996, Ms. Ketterer was a Portfolio Manager at Hotchkis and Wiley, where she founded the International Equity product. Ms. Ketterer earned a BA in Economics and Political Science from Stanford University and an MBA from the Tuck School, Dartmouth College. She is currently a Director of the Los Angeles Philharmonic, the Music Center Foundation (as chair of the investment committee) and the Los Angeles World Affairs Council, and serves on the Los Angeles Advisory Board of Girls Who Invest.
Qi Wang
Managing Director, PIMCO
Lead Portfolio Manager, Global Macro Hedge Fund Strategies

Ms. Wang is a managing director in the Newport Beach office and lead portfolio manager for PIMCO's global macro hedge fund strategies. She is one of only two women who oversee a top 50 hedge fund. She is a member of PIMCO's Investment Committee. Prior to joining PIMCO in 2010, she was with HBK Capital Management for 12 years, most recently as a managing director and partner responsible for developed market fixed income. Ms. Wang was previously a fixed income analyst at Lehman Brothers. She has 23 years of investment experience and holds a bachelor's degree in economics and molecular biochemistry and biophysics from Yale University.
Moderator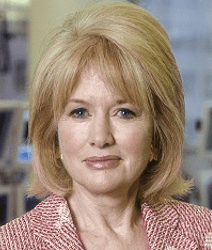 Consuelo Mack
Founder and Host of WealthTrack

Ms. Mack leads the on-air content and direction of the program as Host. She also serves as Executive Producer. Topics that interest her are national and international markets, business in Asia, Wall Street, the stock market and investing. Career: 2005 - present - Consuelo Mack WealthTrack, Anchor / Managing Editor (June) 1998 - CNBC, Anchor / Senior Correspondent 1987 - The Wall Street Journal Report, Anchor / Managing Editor 1982 - ESPN, Business Times Founder Awards: Outstanding Young Women in America Award International Association for Financial Planning, Media Award for Excellence in Advancing Financial Understanding Women's Economic Round Table, Lifetime Achievement Award for Women in Print and Electronic Financial Journalism. Education: Sarah Lawrence College, English Literature, History, Political Science.