The 2018 Commencement was a landmark year for The Paul Merage School of Business as students and guests alike celebrated the 50th anniversary of the business school's first graduating class and recognized the first graduating class from the Master of Finance and the Master of Science in Business Analytics programs.
Leading the celebration was Distinguished Executive Commencement Speaker Craig Boundy, a renowned leader in digital innovation and the CEO of Experian North America. Tom Wagner, MBA '89, a lecturer at the Merage School and principal at The Wagner Group LLC, served as Distinguished Alumnus Mace Marshal for the ceremony held June 18. 
"It's a big responsibility to stand up before all of you and give this commencement speech," said Boundy indicating he had spoken with colleagues, family, and students for inspiration in preparing for the event, and there was one word that sprung to mind…optimism. "When I look at all of you I'm hugely optimistic. You represent the next generation of business leaders. You will lead us through innovation, bring creativity. You're the generation that can truly make a difference to society on behalf of business and that's something that fills me with optimism."
During his speech, Boundy shared these five points of advice with the new graduates:
Invest in a promising startup – The startup is you. Invest in yourself.
Remember the world is not going to stop spinning – You're going to fail. When you do, the world will not stop spinning. Get up the next day and get after it again. If you don't fail, you've not tried hard enough.
Take time to celebrate – You'll be hungry to progress, to make a difference. But, it's important to take a moment to celebrate. 
Friday Rule – Never do a bad thing on a Friday. Difficult conversations or problems are sometimes left until Friday. As a leader, your job is to give people the leadership they need, not the leadership you want to give them. Friday afternoon is the leadership you want to give them, Monday morning is the leadership they need.
Never ever forget, that our differences make us stronger – If you want to be a stronger leader, build a great business. If you want to make a difference to society, you'll need a diversity of perspectives. That diversity will help make sure you make smarter decisions and create an environment where everyone feels welcome. 
Craig Boundy is chief executive officer of Costa Mesa-based Experian North America, a global  data and analytics firm, where he is responsible for the company's North America business lines, including Credit Services and Decision Analytics, Consumer Services, Vertical Markets (Automotive and Health) and Marketing Services.
Experian uses data and analytics to help people manage their financial lives and protect their identities, and to help companies manage, protect and grow their businesses. The company has been recognized as a top workplace by the Orange County Register each year since Boundy began leading the region's 6,000 employees in 2014.
Watch Boundy's full commencement address here. 
Following Boundy, two student speakers from the Class of 2018 also gave presentations during the commencement ceremony. 
Amy Hu was the undergraduate speaker. A triple-major in Business Administration, Business Economics, and Sociology, Hu was a member of the Campus-wide Honors Program and the recipient of the 2018 Chancellor's Award of Distinction. She is the founder and president of two student organizations – Women in Leadership and the Real Estate Association at UCI. She also served as a peer academic advisor for the Merage School and as a coordinator for the Peer Academic Advising Program. In addition, Hu served as vice president of Academic Affairs for the Merage Undergraduate Student Association, student programming funding board commissioner for ASUCI, and lead research assistant for Tweet2Quit. Hu has volunteered her time as an ambassador and treasurer of Anteater Ambassadors Network and the chair of the 2018 UCI Senior Class Gift Committee. In 2017, Hu was named a recipient of the Distinguished Anteater Award and the Nitori Scholarship, followed by the Commercial Real Estate Women Scholarship in 2018.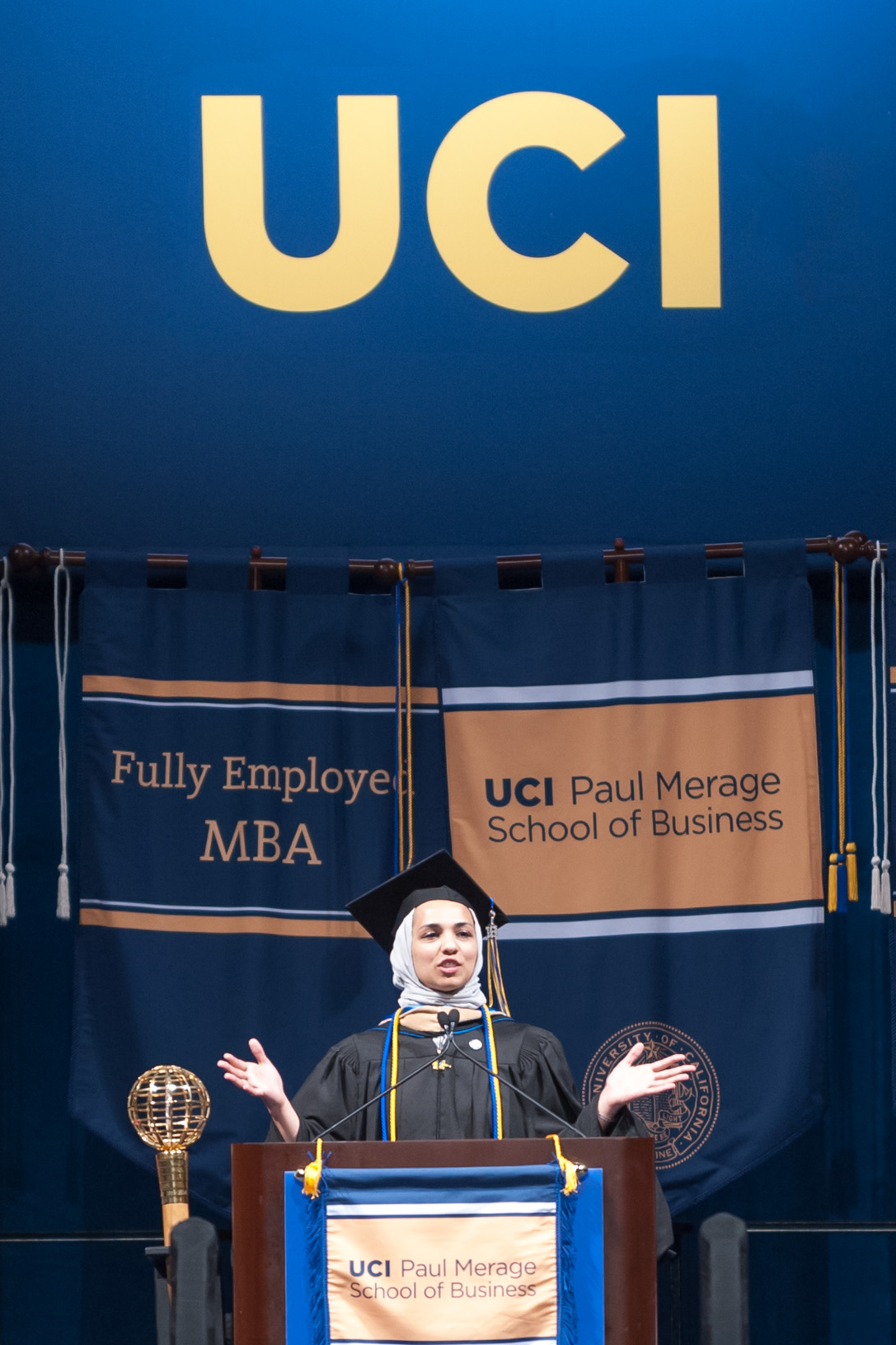 Wajeeha Shakeel, FEMBA '18, was the graduate speaker. Shakeel obtained her Bachelor of Science degree in Business Administration-Finance from University of Southern California in 2011. She pursued her career aspirations in banking by joining a community bank in Whittier, California as a credit analyst after graduation. She had various responsibilities during her tenure at the bank including serving as a secretary of the Compliance Committee and Banker's Secrecy Act Committee, reporting to the Board of Directors. Shakeel is currently a relationship manager at Pacific Enterprise Bank in Irvine where she manages a portfolio of clients and underwrites loans, helping small businesses and entrepreneurs realize their dreams. In her free time she serves as a program director of GirlTalkers, an organization committed to providing a supportive community that aims to unite, inspire, and connect women everywhere to realize their unique value. Driven by her passion and vision of a beautiful world in which nature and business thrive in harmony, Shakeel volunteers as a consultant at Seed Consulting Group. She capitalizes on her educational background and skills to help organizations that strive to become more environmentally conscious and sustainable in their practices.  
In all, approximately 695 graduates participated in the Merage School's 2018 commencement ceremony, including 208 Business Administration undergraduates, five PhDs; 80 Full-Time MBAs, 130 Fully Employed MBAs, 37 Executive MBAs and 24 Healthcare Executive MBAs. From the specialty masters programs, 119 students received a Master of Professional Accountancy, 55 graduated with a Master of Finance, and 36 received a Master of Science in Business Analytics. An additional 37 undergraduate students received a Bachelor of Arts in Business Information Management, which is a collaborative, interdisciplinary degree program administered by the Donald Bren School of Information and Computer Sciences.
More information about the 2018 Commencement Ceremony can be found at merage.uci.edu/commencement.