Admissions
It's time to take the first step in exploring an entrepreneurial or intrapreneurial path for your career.
---
The Paul Merage School of Business is highly ranked by Financial Times, Bloomberg Businessweek, U.S. News & World Report, The Economist and other leading business publications. We have a vibrant learning community with a diverse and motivated student population. Now available in a nine-month full-time or a two-year part-time format, the Master of Innovation and Entrepreneurship (MIE) is the only program of its kind in the UC System.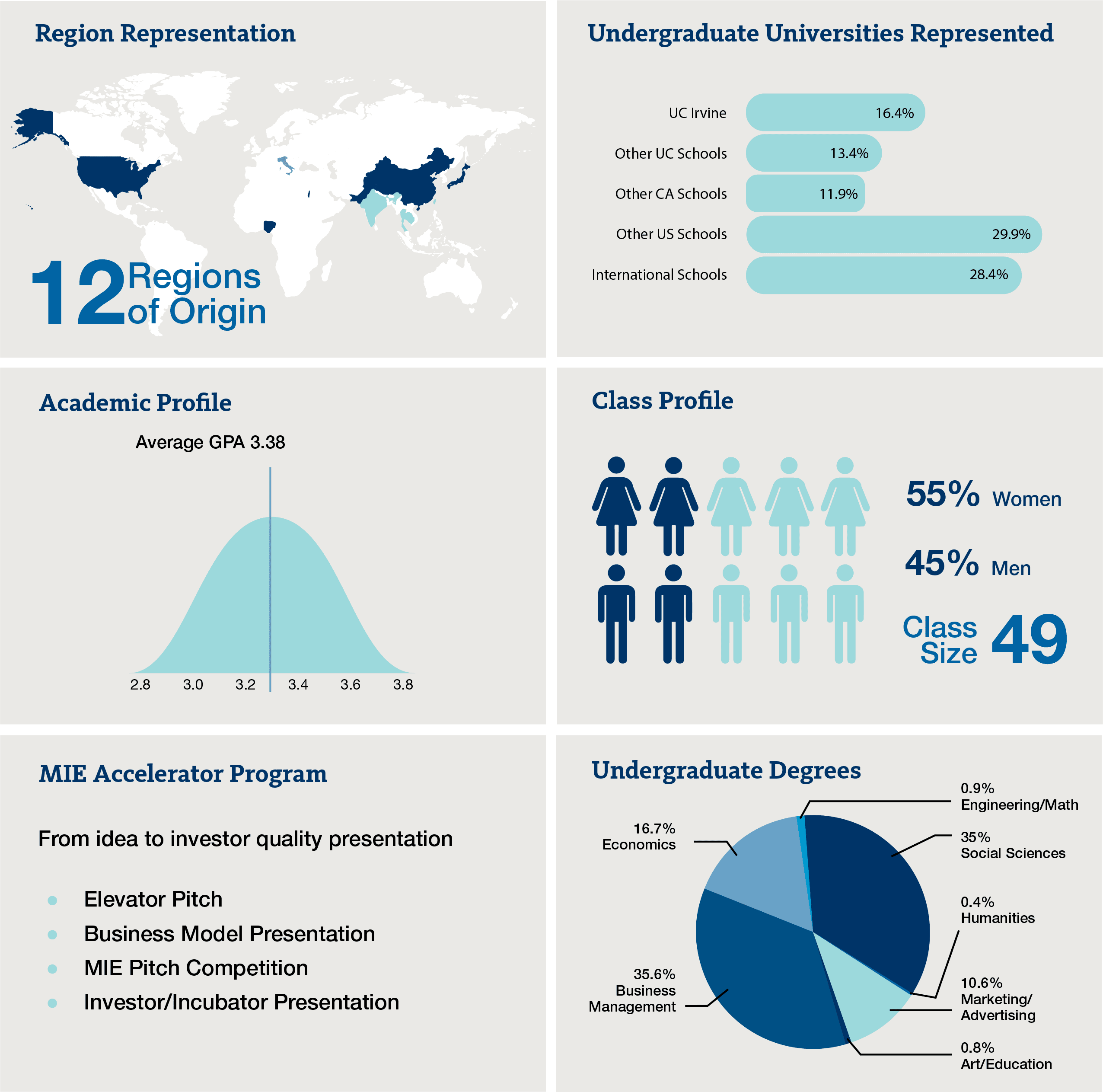 Fall 2024 applications are open.
Applications are submitted online. The MIE program has six rounds of application deadlines. You are responsible for ensuring all parts of your application are completed by the stated deadline date. If you have any missing items by the deadline, your application will be considered in the next round. We encourage applicants to submit as early as possible.
Round 1: October 15
Round 2: November 15
Round 3: January 15 
Round 4: March 1 
(final deadline for international applicants)
Round 5: May 1
Round 6: June 1
After submitting a completed application, you will receive a decision upon the careful review of your application within two months from the stated application deadline.
Scholarships are available to qualified candidates and are granted according to merit. All applicants are automatically considered for scholarships. Applying early maximizes the chances of receiving a scholarship.
Admission to graduate standing in The Paul Merage School of Business is accorded to those possessing an undergraduate degree with an acceptable level of scholarship from an institution of recognized standing. Applicants for admission will be evaluated on their academic record and potential for leadership as demonstrated in submitted application materials including:
Official Transcripts from all institutions attended to obtain undergraduate degree (with English translation if needed) 
Two Letters of Recommendation 
Two Essays 
Résumé
Official TOEFL or IELTS (international applications - scores valid for two years) 
$150 application fee
A personal interview, by invitation only
---
Transcripts
Please upload unofficial copies of transcripts for each college and university attended with your online application. Transcripts scanned and uploaded to your application will be used to conduct the initial review. You will be asked to submit official transcripts if you are admitted and have decided to attend UCI.
Send official transcripts to:
UCI Graduate Division
120 Aldrich Hall
Irvine, CA 92697-3180
grad@uci.edu
Candidates may apply to the program if they hold the equivalent of a four-year U.S. Bachelor's degree. Transcripts from non-U.S. universities should include evidence of degree conferral (proof of graduation). International applicants should refer to the International Applicant page for more specific requirements.
---
Two Letters of Recommendation
Submissions of letters of recommendations are preferred using the form through our online system. However, letters received in the mail will be accepted if received in a signed and sealed envelope directly from the recommender.
Recommenders can send letters of recommendation directly to mie@merage.uci.edu in case of technical difficulties.
---
Statement of Purpose Essay
The specific essay prompt can be found on the application. Please answer the questions within the space limits indicated.
---
Résumé
Submit a copy of your résumé (PDF format preferred).
---
Test of English as a Foreign Language (international applicants)
All graduate applicants, except those who have earned an undergraduate or master's degree from an institution at which English was the sole language of instruction according to the World Higher Education Database (WHED), are required to demonstrate English proficiency for admissions consideration. Please see WHED's instructions on how to search for your institution. If English is not the sole language of instruction listed or if no language is listed at all, the waiver does not apply and the applicant is required to take and pass an approved English proficiency test. We accept both the TOEFL and IELTS exams. The scores from either exam are valid for up to two years from your test date. The minimum score for TOEFL (Internet-based) is 80. For the IELTS, the minimum required score for admission is 7, with a score of no less than 6 on any individual module. Exam results should be sent to UC Irvine institution code: 4859. Review the English Proficiency requirement.
---
$150 Application Fee
A non-refundable application fee of $150 must be paid by credit card through the online application system.
---
Personal Interview (by invitation only)
Interviews are by invitation only, are required for admission and are conducted by the Admissions Committee. The interview is a way for us to evaluate your interpersonal and communication skills as well as a way for you to ask questions and determine whether the Merage School is right for you. 
If invited to an interview, you will be informed via email. Whenever possible, applicants are encouraged to conduct interviews on campus. However, for those applicants unable to travel to Irvine, telephone interviews are acceptable. In some cases before an in-person or Skype interview, candidates may be invited to participate in a separate video interview. This is not an indication of an applicant's increased chances of admission, but rather an additional step we use to learn more about you.
We encourage applicants from all backgrounds, especially those who demonstrate strong communication and conceptual thinking skills.
The Merage School has a good reputation, great faculty and excellent programs. I was looking for something beyond the curriculum, and the MIE program offers that. We do workshops, company visits, events and so much more. Most importantly, the School gives its students a collaborative and supportive environment. So, why not the Merage School? Michelle Liman, MIE '20